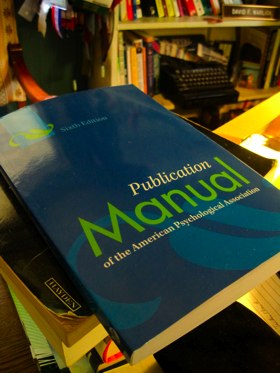 I have almost three weeks off from traveling, and I have spent the first part of that, the afternoons, updating APA to the Sixth Edition Publication Manual of the American Psychological Association (APA). I also took the opportunity to rewrite a lot of the code that generates the APA citations so that the tool will run much faster (theoretically).
I know that there will be questions. There have already been questions:
..for example why was the Web Pages heading dropped from the APA format???
I had to make a number of calls and dropped a couple of sources because I simply wasn't comfortable adapting citations the way that I have in the past. Dropping Web Pages was a tough call. But there simply was not a citation format described in the manual for "web pages."
Most of the non-print sources, however, do include textboxes for web URLs as well as Digital Object IDs (DOIs). So you can cite books, journal and magazine articles, online encyclopedia articles, weblogs, podcasts, online forums, and online conference proceedings as web pages. The impression that I got from the manual was that APA wants references to be established and easily verifiable resources.
If there are other sources that are missing here, please just comment on this blog entry. I will receive an e-mail notification and get to it as soon as possible.
Next step -- go through and double check (and recode) MLA to 7th edition.